We are proud to offer recreational programs for Seniors. Participants will stay active, build friendships, and make memories. All Senior Social events are hosted in the historic Arletta Schoolhouse at Hales Pass Park, 3507 Ray Nash Drive, unless otherwise noted.
View our November 2023 Senior Activities Calendar
Senior Socials
Join PenMet Parks Staff for fellowship, games, enrichment activities, and other, unique special events. Coffee & light snacks will be provided.
First Friday Program: Share Your Stories, Write Your Memoirs
Friday, November 3, 11 AM – 12:30 PM
Join us for interactive sessions with a variety of knowledgeable speakers on topics related to healthy and happy aging. This month's topic is Share Your Stories, Write Your Memoirs, presented by noted local author and memoirist, EC Murray. We'll also introduce you to the national StoryCorps' Great Thanksgiving Listen project, which encourages people of all ages to create an oral history of our times by recording interviews with elders, mentors, friends, or someone they simply admire.
Photo: author EC Murray
All Senior Social events are FREE to attend. Join us for this informative and empowering conversation. Register online and bring a friend!
Pop-Up Senior Social: Medicare Info Session
Monday, November 6, 11 AM – 12:30 PM
We're excited to welcome local Statewide Health Insurance Benefits Advisors (SHIBA) volunteer, Sandy Ruffo, to discuss changes in Medicare plans offered to Pierce County seniors in 2024. SHIBA provides free unbiased information services related to Medicare, as a program of the Washington State Insurance Commissioner's Office. Sandy is very skilled at breaking the complexities down into understandable parts.
Senior Bowling Meet Up
Thursday, November 9, 3 PM, Ocean5, 5268 Point Fosdick Dr, Gig Harbor, WA 98335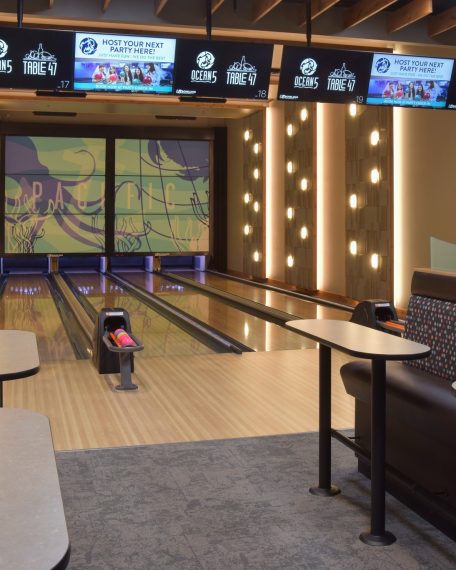 Get ready to "strike" up new friendships while knocking down some pins! This fun-filled meetup is designed for seniors who want to socialize, stay active, and enjoy some friendly competition. Everyone is welcome to participate; no experience is required.
Please sign up so we can reserve the right number of lanes. Equipment provided by Ocean5.
NOTE: A $5 fee is charged by Ocean5 at the bowling check-in desk.
Second Friday Program: Stitch & Chat
Program ALERT:
On November 10, PenMet Parks will be closed in observance of the Veterans Day holiday and there will be no Stitch & Chat program.
Third Friday Program: Games Galore
Friday, November 17, 11 AM – 12:30 PM, Arletta Schoolhouse at Hales Pass Park, 3507 Ray Nash Drive NW, Gig Harbor
Enjoy a wide variety of card and board games on the 3rd Friday of each month. We host Bingo, Bunco, trivia, and yard games on a rotating basis, along with Games Galore Free Play. Please sign up and bring a friend.
Last Friday Program: Movies at Galaxy Cinema
Friday, November 24, Free Movie for Seniors
Join us at the Galaxy Theater Uptown on the last Friday of the month for a free movie (just for seniors). Coupons are required and can be picked up at BBQ2U in Gig Harbor earlier in the month.
Gentle Yoga
Tuesdays, 3-3:45 PM, Arletta Schoolhouse at Hales Pass Park, 3607 Ray Nash Drive NW, Gig Harbor
Our group class guides you through gentle stretch movements in an inclusive setting designed for all abilities, whether you're just starting out or have practiced yoga for years! The class goals are to proceed toward developing strength, flexibility and mindful promotion of the connection between movement and breath. This class is designed for everyone and includes some modifications using poses while seated in a chair. Everyone is welcome!
Introduction to Watercolor
Tuesdays, 9:30-11 AM, Arletta Schoolhouse at Hales Pass Park, 3607 Ray Nash Drive NW, Gig Harbor
In this class, you will learn the fundamentals of watercolor painting, including how to choose the right materials, mix colors, and use different brush techniques. Our experienced instructor will guide you through the process step-by-step, so even if you've never picked up a paintbrush before, you'll be able to create beautiful watercolor paintings. Throughout the class, you'll have plenty of opportunities to practice your skills, and our instructor will be there to offer guidance and feedback. You'll also have the chance to experiment with different styles and subject matter, whether that's still life, landscapes, or abstract compositions. All materials will be provided, including high-quality watercolor paints, brushes, and paper. Just bring your creativity and a willingness to learn!
Participants can register for the four-week session for $40.
SAIL Fitness — Stay Active and Independent for Life
Tuesdays, 1:30-2:30 PM, Arletta Schoolhouse at Hales Pass Park, 3607 Ray Nash Drive NW, Gig Harbor
This is a strength, balance, and fitness class for adults wishing to stay active and independent and reduce the chances of having a fall. Various muscle groups are targeted to enhance strength and balance which can deteriorate from injury and age. Have fun exercising while listening to music, using a chair, and light hand weights.
---
Tai Chi
Wednesdays (times vary)
Tai Chi promotes health and relaxation through a series of flowing, gentle, movements. Tai Chi develops balance, flexibility, strength, and focus. Our collaborative instructors have over sixty years of experience as students and leaders of Yang-style Tai Chi.
Currently intermediate Tai Chi has openings for new students.