From 14th Ave to Borgen Blvd
All parks are open 7 am to dusk
---
Trailhead parking areas are located on 14th Avenue NW, Hollycroft Way, Kimball Drive (Next to the Kimball Drive Park & Ride Lot), Grandview Street, and Borgen Blvd. The trail currently ends at Borgen Blvd. There are three restrooms, located at Grandview, Hollycroft, and Borgen. Along the path, visitors will find bike racks, benches, and picnic tables.
---
Park Description
Description: The Cushman Trail is approximately 6.2 miles of non-motorized public trail with a 16 foot wide paved asphalt surface to accommodate walkers, rollerbladers, and bicyclists. PenMet Parks currently maintains the first 1.6 miles of the trail from 14th Ave to Olympic Drive. The City of Gig Harbor maintains the trail from Olympic Dr. to Borgen Blvd.
Park Features
General
Dogs on Leash, Hike, Bike
Natural Features
Wildlife, Forrest Areas
Additional
Restrooms, Paved Parking, Dog Bags, Mile Markers
Park Features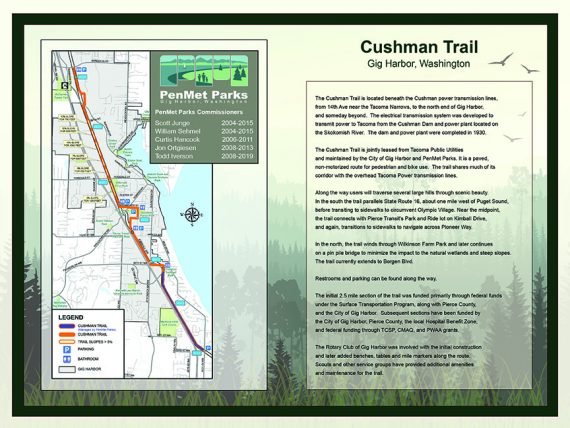 The Cushman Trail is located beneath the Cushman power transmission lines, from 14th Ave near the Tacoma Narrows, to the north end of Gig Harbor, and someday beyond. The electrical transmission system was developed to transmit power to Tacoma from the Cushman Dam and power plant located on the Skokomish River. The dam and power plant were completed in 1930.
The Cushman Trail is jointly leased from Tacoma Public Utilities and is maintained by the City of Gig Harbor and PenMet Parks. It is a paved, non-motorized route for pedestrian and bike use. The trail shares much of its corridor with the overhead Tacoma Power transmission lines.
Along the way users will traverse several large hills through scenic beauty. In the south the trail parallels State Route 16, about one mile west of Puget Sound, before transiting to sidewalks to circumvent Olympic Village. Near the midpoint, the trail connects with Pierce Transit's Park and Ride lot on Kimball Drive, and again, transitions to sidewalks to navigate across Pioneer Way.
In the north, the trail winds through Wilkinson Farm Park and later continues on a pin pile bridge to minimize the impact to the natural wetlands and steep slopes. The trail currently extends to Borgen Blvd.
Restrooms and parking can be found along the way.
The initial 2.5 mile section of the trail was funded primarily through federal funds under the Surface Transportation Program, along with Pierce County, and the City of Gig Harbor. Subsequent sections have been funded by the City of Gig Harbor, Pierce County, the local Hospital Benefit Zone, and federal funding through TCSP, CMAQ, and PWAA grants.
The Rotary Club of Gig Harbor was involved with the initial construction and later added benches, tables and mile markers along the route. Scouts and other service groups have provided additional amenities and maintenance for the trail.
Park Rules
Download Park Use Regulations (PDF)
Download Leash Regulations (PDF)
Explore More Parks