November 2023 PenMet Parks eNews
Fall is in Full Swing at PenMet Parks
In This Issue…
Trunk or Treat at Sehmel Homestead Park
Vote November 7: Levy Renewal
Cookies with Mr. and Mrs. Claus
Financial Assistance
Classes and Activities for all Ages
Pricing Policy
Youth Basketball (Registration Opens Nov 4)
PROS Plan
Visit our calendar of events to learn more.
Parks & Recreation Levy Renewal
This November PenMet Parks residents will vote on a renewal of the District's parks and recreation levy. This renews the same expiring levy from 2017.
Use of Levy Funds: The current levy, which is expiring this year, generated $15.5 million in funding over six years. As voters consider renewing this levy, learn more about how PenMet Parks has used those funds to advance our community's priorities.
Cookies with Mr. & Mrs. Claus
Saturday, December 9
From 10 AM – 2 PM
(Low Sensory Hour 1-2 PM)
Sehmel Homestead Park
Join PenMet Parks for this annual holiday family tradition at Sehmel Homestead Park in Gig Harbor.
Receive a take-home cookie decorating kit, get pictures with Mr. & Mrs. Claus, and make-n-take holiday-themed crafts. To add to this fun day, enjoy festive holiday music, and drop off your letters to Santa.
Cost: "Pay as you will" donation-based tickets.
How to Register: Registration begins on November 1. Learn more The Kiwanis Club of Gig Harbor will be accepting non-perishable food to donate for the Gig Harbor Peninsula FISH Food Bank.
Classes and Activities For All
Financial Assistance is Available
Financial assistance ensures broader access to PenMet Parks fee-based programs for all ages and activities. Applications are available online, in person, or over the phone. Contact us with questions at [email protected].
Below are just a sample of our classes and activities for all ages. Check out our September-December 2023 Recreation Guide to learn more.
Adult Programs
Mosiac Art Class: Pendants
ID#6018 $50, Ages: 18+, Saturday, 11/4 from 1-4 PM Volunteer Vern Pavilion
Join local artist Barbara Henderson in creating decorative mosaic art using glass, beads, and a variety of mosaic techniques. Suitable for beginners and intermediate artists, this course offers step-by-step instructions, and a featured project to showcase your creativity.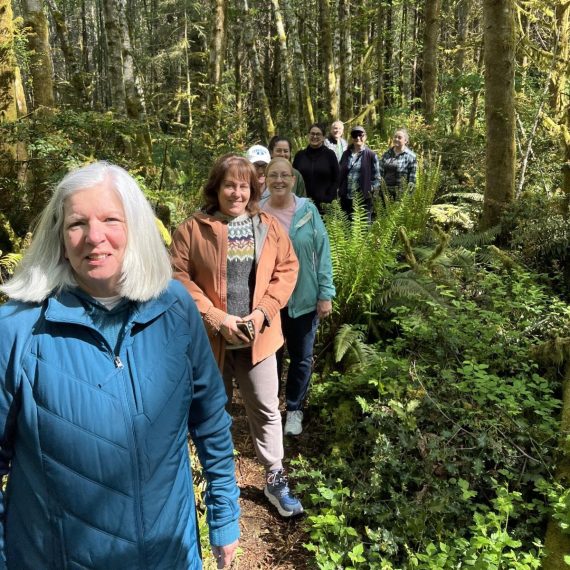 ID#6334 $5, Ages: 18+, Thursdays, 11/2-12/14 from 8:30-9:30 AM, Various Park Locations
Would you like to get out and about in nature with other walkers? Join us as we explore different PenMet Parks trails over six weeks. Walking locations include Sehmel Homestead Park, McCormick Forest Park, Cushman Trail, and more.
Teen Programs
Adulting 101 Workshop: Basics of Investing
ID#5872, $5, Ages 12-18, Saturday, 11/18, from 10 AM-NOON, Arletta Schoolhouse
Adulting 101 is a new series to help teens with the skills needed for their transition into adulthood. Learn how to make informed financial decisions, develop responsible spending habits, and lay a strong foundation for the future. Pre-registration is required.
ID#5868, $10, Ages 12-18 Saturday, 11/17 from 7-9 PM, Arletta Schoolhouse
We invite you to the Friendsgiving Murder Mystery! This thrilling and immersive experience is designed for teens who love puzzles, mysteries, and a dash of suspense. Dinner will be provided. Pre- registration is required.
Super Sitters: Babysitting Course
ID#5970, $85, Ages 11-15, Saturday, 11/18 from 9 AM – 2 PM, Volunteer Vern Pavilion
Come for a day of fun while earning your Super Sitters Certificate! This class will cover leadership and the business of babysitting, basic care for children, understanding children of different age groups, safety and first aid. 
Safe at Home: Super Sitters Introduction
ID#5971, $40, Ages 8-12, Saturday, 11/18 from 2-4 PM, Volunteer Vern Pavilion
Come learn how to be responsible and safe in any situation. We will cover family communication, first aid, internet, gun, phone, and door safety. Learn how to be safe, comfortable, and confident when staying home alone. 
Youth Programs
Kids Afterschool Art Club: Trash to Treasures 
ID#5878, $55, Ages 6-11, 11/16-12/14, Thursdays from 4:30-5:30 PM, Volunteer Vern Pavilion
Does your kiddo love arts and crafts? This is the club for them! Each week we will be using everyday items one might have chosen to throw away or donate to create a work of art. At the end of the program your child will have five masterpieces to take home. Just in time for the gift giving season!
Toddler Time: Barnyard Buddies
ID#5864, $5, Ages 4 or Under, Saturday, 11/11 from 8-9:30 AM, Arletta Schoolhouse
This program offers play, learning, and bonding experiences for guardians and their young children. It is a wonderful opportunity to make new friends and build lasting connections with other families. Join us for an exciting adventure as you and your toddler explore the world of Barnyard Buddies, where they can engage in interactive activities, learn about farm animals, and enhance their sensory exploration and fine motor skills.
PenMet Parks Launches in-District Discount and Priority Registration Program
In October 2023, the PenMet Parks Board of Commissioners approved a pricing policy that benefits District residents. This new policy applies to all the District's fee-based programs and services offered after April 1, regardless of when registration or reservations occur. This policy includes the following:
Differential pricing for those who reside within the District. In-District residents will pay 20% less than non-residents.
Priority registration for District residents enrolling in recreation programs. District residents benefit by registering one week prior to non-residents.
Visit the PenMet Parks website for more information on the pricing policy, including answers to frequently asked questions.
Youth Basketball Season at PenMet Parks
Youth Basketball Season Registration Opens November 4
This promises to be another fun youth basketball season. Through youth sports, PenMet Parks is dedicated to help players build their skills and to help future generations learn the values of community, leadership, and character development in a fun and safe environment. Our youth basketball leagues are for boys and girls from Pre-K to eighth grade.
Download our Youth Basketball season flyer. Learn more on our website.
Be a Volunteer Coach
Want to help players have fun and improve their skills? Here's what it takes to be a coach:
Volunteer two-three hours per week.
We supply all equipment.
Choose your practice day.
Head coaches receive a fee waiver for your child's registration.
Referees: We Need YOU
It takes a village to run PenMet Parks' youth sports programs and we need you to make it happen. Referees will help oversee games, making sure players follow the rules and keeping the game fair. If you are 15 or older, you can be a referee.
Parks, Recreation, and Open Space (PROS) Plan Adopted
On October 17, the PenMet Board of Park commissioners adopted the 2024 Parks, Recreation, and Open Space (PROS) Plan. The purpose of the PROS Plan is to identify community priorities for parks, recreation, and open space. The PROS Plan was last revised in 2018 and is updated periodically, but at least every six years. The PROS Plan was updated with input our community shared through open forums and surveys with District residents and other community members.
The PROS Plan guides PenMet Parks when making decisions or taking actions regarding planning, acquiring, developing, or enhancing parks, open space, or recreational facilities and programs. Learn more by visiting the PROS Plan information page on our District website.