October 2023 PenMet eNews
It's "Scarecrow" Month at PenMet Parks
In This Issue…
Scarecrow Festival is Saturday, October 7
Scarecrow Contest (At Scarecrow Festival)
Levy Renewal Informational Events
Financial Assistance
Classes and Activities for all Ages
PROS Plan
Trunk or Treat
Youth Basketball (Registration Opens Nov 4)
Scarecrow Festival
Saturday, October 7
From 11 AM – 4 PM
Sehmel Homestead Park
Presented by Schulte & Co, The Neighborhood Experts, this event is a Fall tradition, featuring a full day of family fun for everybody.
Annual Scarecrow Contest (Learn more below)
Hay rides and petting zoo provided by Miracle Ranch
Pumpkin carving demos
Music from the Shy Boys, and entertainment all day long
Food trucks
Local Makers market
Bounce house, carnival games, and more
In lieu of an admission fee, attendees are encouraged to bring personal care items or non-perishable food to the event. The Kiwanis Club of Gig Harbor will host a collection station to give these donations to the Peninsula FISH Food Bank.
Scarecrow Contest at the Festival
Along with all the food, festive music, and FUN at this year's Scarecrow Festival at Sehmel Homestead Park, we will again hold our annual Scarecrow Contest.
Download the Scarecrow Contest flyer — the contest is FREE and open to everyone. Learn more and fill out a contest entry form!
Last year's Scarecrow Contest winner, Crumbl Cookies!
Levy Renewal Informational Events
In October
This November PenMet Parks residents will vote on a renewal of the District's parks and recreation levy. This renews the same expiring levy from 2017.

PenMet Parks is hosting several presentations to provide information and answer questions regarding this levy renewal. District residents can visit the levy renewal information page on the PenMet Parks website to learn more and to view the schedule of upcoming levy renewal informational events.
Tuesday, October 3 from 1-2 PM at the Arletta Schoolhouse in Hales Pass Park.
Wednesday, October 18 from 6-7 PM at the Volunteer Vern Pavilion in Sehmel Homestead Park
Classes and Activities for All
Financial Assistance is Available
Financial assistance ensures broader access to PenMet Parks fee-based programs for all ages and activities. Applications are available online, in person, or over the phone.
Contact us with questions at [email protected].
Below are just a sample of our classes and activities for all ages. Check out our September-December 2023 Recreation Guide to learn more.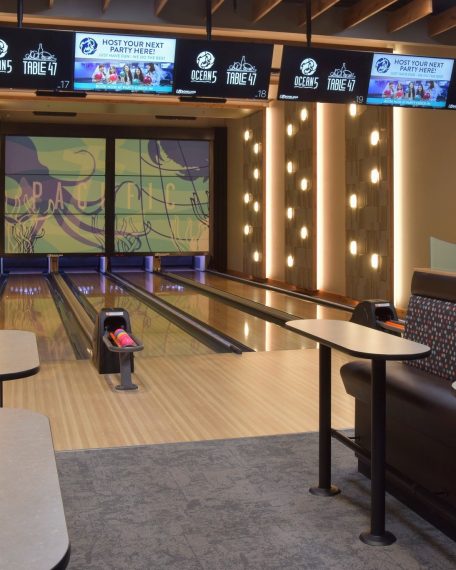 Senior Programs
ID#6081
October 12, 3-4 PM
Ocean5
Meet us once a month at Gig Harbor's Ocean5 for a great time. All skill levels are welcome. Sign up by October 8 so we can reserve the right number of lanes. Bowling balls are provided by Ocean5, and bowling shoes are not required. NOTE: There is a $5 (plus tax) fee charged by Ocean5 when you check in.
Adult Programs
Pendants. ID#6018
$50, Ages: 18+
11/4, Saturday, 1-4 PM
Volunteer Vern Pavilion Join local artist Barbara Henderson in creating decorative mosaic art using glass, beads, and a variety of mosaic techniques. Suitable for beginners and intermediate artists, this course offers step-by-step instructions, and a featured project to showcase your creativity.
Teen Programs
Teen Laser Tag League ID#5844, $75, Ages 12-16 10/4-11/8, Wednesdays from 4:30-6:30 PM
Ocean5 Each week, teams will compete head-to-head to find out who is the ultimate laser tag champion. Sign up to join in all the fun. 
More Teen Programs
ID#5871, $5, Ages 12-18
Saturday, 10/21 from 10 AM-NOON
Arletta Schoolhouse Learn how to make informed financial decisions, develop responsible spending habits, and lay a strong foundation for future financial well-being. Interactive lessons, practical exercises, and real-life scenarios teach budgeting fundamentals and build confidence in managing their finances.
Youth Programs
Kids Afterschool Art Club: Trash to Treasures, ID#5878
$55, Ages 6-11, 11/16-12/14, Thursdays from 4:30-5:30 PM
Volunteer Vern Pavilion Does your kiddo love arts and crafts? This is the club for them! Each week we will be using everyday items one might have chosen to throw away or donate to create a work of art. At the end of the program your child will have five masterpieces to take home. Just in time for the gift giving season!
Parks, Recreation, and Open Space (PROS) Plan Update
The Board of Park commissioners will consider adopting the Parks, Recreation, and Open Space (PROS) Plan in October. The PROS Plan was developed from input our community shared through open forums and surveys with District residents and other community members.
The PROS Plan will guide PenMet Parks when making decisions or taking actions regarding planning, acquiring, developing, or enhancing parks, open space, or recreational facilities and programs. We look forward to sharing the PROS Plan with you as we set out to implement it in a strategic way over the next six years.
You can learn more and offer your input at the next Board of Park Commissioners meeting on Tuesday, October 3 at 6 PM at the Arletta Schoolhouse in Hales Pass Park.
Keep an eye out on our website for the approved PROS Plan after the October 17 Board of Park Commissioners meeting
Trunk or Treat
Friday, October 27
from 5-8 PM
Sehmel Homestead Park
PenMet Parks is hosting a family-friendly "Trunk-or-Treat" event the weekend before Halloween.
We are inviting local businesses and non-profit organizations to become Trunkers, by hosting trunks and giving treats to our little ghouls and goblins.
No registration is required. See you at the park.
Contact us to learn more about how you can become an official Trunker for Trunk or Treat.
Youth Basketball Season at PenMet Parks
Youth Basketball Season Registration Opens November 4
Our youth basketball leagues are for boys and girls from Pre-K to eighth grade. We are dedicated to inspiring future generations learn the values of community, leadership, and character development in a fun and safe environment. Learn more.
Be a Volunteer Coach
Want to help players have fun and improve their skills? Here's what it takes to be a coach:
Two-three hours per week.
We supply all equipment.
Choose your practice day. Head coaches receive a fee waiver for your child's registration.
Referees: We Need YOU
It takes a village to run PenMet Parks' youth sports programs and we need you to make it happen. Referees will help oversee games, making sure players follow the rules and keeping the game fair. If you are 15 or older, you can be a referee.